What is Pulmonary Hypertension?
Pulmonary hypertension means high pressures in the arteries of the lung often associated with pathological changes within the arterial wall. On one hand it may be a passive process due to volume or flow overload of pulmonary circulation sometimes reversible with the correction of underling cause such as left heart failure, hyperthyroidism, etc. On the other hand, PAH (Pulmonary arterial hypertension) is in situ disease of the arteries of the lung, almost always progressive leading to right heart failure or death if untreated.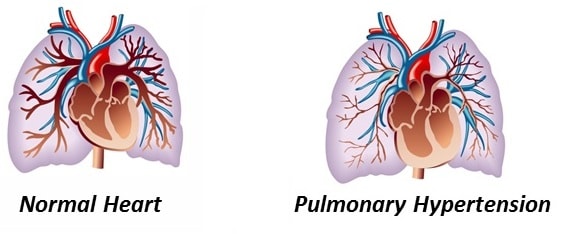 Why is Pulmonary Hypertension Difficult to Diagnose?
The arteries of the lungs are embedded within the chest cavity. It is not feasible to make direct pressure recordings with sphygmomanometer. Instead either indirect pressure estimations are derived from imaging methods such as ultrasonography with limited accuracy or to be more precise invasive approach via heart catheterizations is required to make direct pressure measurements. Therefore, pulmonary hypertension evaluation is not part of routine office practice but requires referral for further testing. Since the initial symptoms of pulmonary hypertension are not specific, intuitively they are commonly attributed to more common diseases instead of starting a relatively tedious diagnostic process and the diagnosis is often delayed. Majority of PAH patients are diagnosed when their diseases are into late stages.
Why is Pulmonary Hypertension Important to Recognize?
Late diagnosis of pulmonary hypertension is not only associated with treatment failures but also can be costly. Often combination therapies, including parenteral, or heart lung transplants may be necessary to reverse or palliate this progressive disease in later stages. The cost of available therapies are considered to be a major limitation by some. Alternatively, if untreated recurrent hospitalizations not uncommonly attributed to other more common diseases such as heart failure, pneumonia are inevitable and even costlier.
Are There Different Causes or Forms of Pulmonary Hypertension?
Once the existence of high pressures in the arteries of the lungs is confirmed, the determination of its origin, whether arteries of the lungs or further downstream in the circulation, is made. The next step is the world health organization classification. Currently there are 5 groups in this classification system. Unfortunately only for group 1, involving clear cut pulmonary artery disease population, there is guidance for treatment. The causes of group 1 PAH include diet pills, HIV disease, chronic liver disease, connective tissue disease such as scleroderma or lupus, heart defects from birth, sickle cell disease or genetic itself or in combination with any of the above. There is little known as to how to manage group 2 to 5 patients. There may be overlap between the groups and the accurate distinction sometimes requires significant expertise.
Current Challenges in Pulmonary Hypertension Diagnosis and Management
There is rising public awareness about pulmonary hypertension and its consequences. It is a complex disease, the accurate diagnosis and classification may require challenging algorithmic approach, not always in the armamentarium of health care providers. While clinicians want guidance on management using the best scientific evidence there are few guidelines. Often clinicians have to make individual decisions. The choosing the best therapy requires consideration of multiple factors such as associated conditions, hemodynamics, laboratory findings, functional status of the patient.
Our Solution
CVD Evaluator pulmonary hypertension module may serve as a clinical decision support system to aid providers in management of this somewhat mysterious, complex disease. The software is designed by the feedback of renowned PAH experts. It will assist in interpreting hemodynamic, echocardiographic data. It will bridge an individual profile to the literature for evidence based management choices.